Municipalities in Santiago
20/09/2018, updated 15/06/2023
The province of Santiago is divided into 37 municipalities*. Below is an overview of some of them.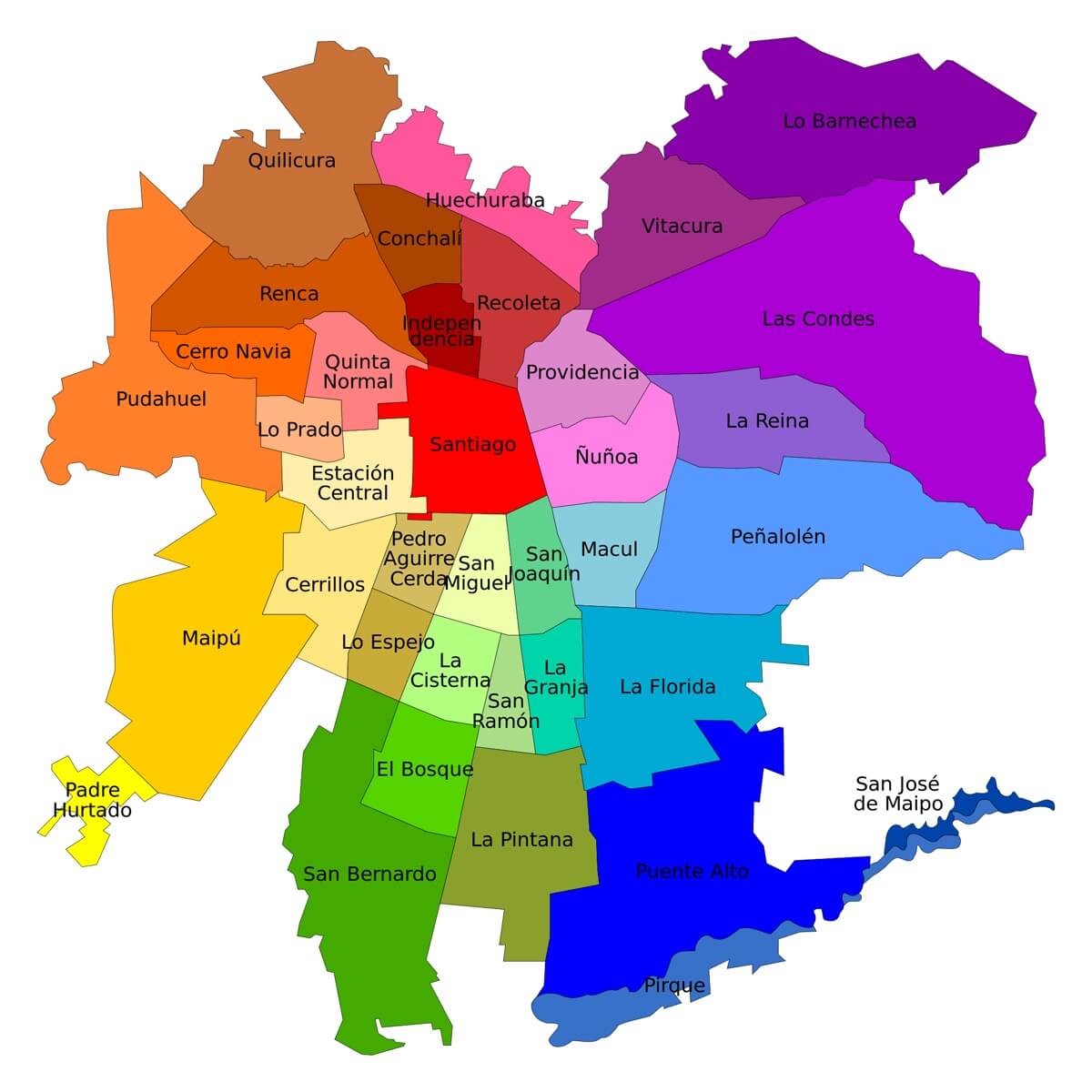 *We use the term "municipality" to translate the Chilean term "comuna". It is not perfect, as municipality often implies urbanization, which is not the case for comunas outside big cities. Yet, the "comunas" of the metropolitan region mentioned in this article are similar to the meaning of the word municipality as used in English.
Santiago Centro
The municipality of Santiago Centro is the starting point of the creation of the city during the 16th century. Most central administrations, as well as many historical monuments have been built gradually around the Plaza de Armas (Civico neighbourhood). Santiago Centro is therefore the historic heart of the city, where you can find many vestiges of the colonial era. If you are interested in this period of time, you can visit the Museo Histórico Nacional and the Museo Colonial, both located in Santiago Centro.
From the point of view of expatriates, Santiago Centro is the western limit of the city as most of them live in the north-east of the city and do not come often further west.
Around the Plaza de Armas, Santiago Centro is full of commercial passages, like the Paseo Huérfanos, and shopping malls. This is the perfect place to go shopping for low prices.
South of Alameda Avenue, which crosses Santiago Centro from east to west, many twenty-floor buildings have been built. It is therefore a very residential area, not very lively after 9pm. The concentration of buildings makes supermarkets overflowed on weekends. Queuing 20-30 minutes to proceed to checkout can quickly become annoying... Likewise, in the morning and evening, during peak hours, even though they are wide, the sidewalks are crowded, especially those close to the entries/exits of the subway.
North of this avenue, east of the town, there is the Lastarria district, located around the Cerro Santa Lucía (a small hill with a nice 360-degree view of Santiago). Lastarria is a slightly bohemian neighborhood, where you can find many restaurants, cafes, bookstores, art shops and the Museo de Bellas Artes.
North of Santiago Centro is the Barrio Patronato, the Chinatown area of the city. La Vega, Santiago's biggest market, is also north of the municipality. There, you can find fruits and vegetables, meat, fish, cheese at more affordable prices than in supermarkets. You can also enjoy Chilean specialties such as completos, empanadas or sopaipillas.
Santiago Centro is recommended for students or young professionals, especially those working in the center. Do not live in this area if you have a car and need to use it on a daily basis. Parking a car here is costly and traffic is very complicated during peak hours.
The neighborhood keeps growing and many buildings are still under construction. If you plan to settle in this neighborhood, make sure to check that there is no building site next door, to avoid six months of noise nuisance.
Providencia
Located to the east of Santiago Centro, Providencia is home to some of the city's points of interest: Cerro San Cristóbal, Costanera Center (the highest skyscraper in Latin America), Barrio Bellavista, where you can find the Chascona (house of Pablo Neruda), etc. The municipality also includes many parks, such as Parque Bustamante or Parque Inés de Suárez.
There are many bars and restaurants along the line 1 of the subway between Baquedano and Pedro de Valdivia, and along the line 4 between Tobalaba and Cristobal Colon. It is the perfect place for a drink during happy hour after a day of work!
Bellavista, located north of the municipality, just before Cerro San Cristóbal, is a lively arts district, where you can find restaurants, bars and clubs to go out. Yet, if you live there, this is a very noisy neighborhood at night.
Apart from convenience stores, as soon as you move 3-4 blocks from the subway to the south, Providencia becomes very residential. The area is very pleasant, with tree-lined streets. It is valued by Chileans and foreign residents. The population that lives there is therefore quite heterogeneous and cosmopolitan. Most homes are low (single-family homes and buildings up to 8-10 floors maximum) but new buildings are being built. There is more space and fewer people in the streets than in Santiago Centro. There is very little insecurity and you can walk home in the middle of night without any problem. An apartment or a house located 2-3 blocks away from the subway is a good compromise, to live in a rather quiet place while being able to move easily and being close to everything.
Providencia is therefore recommended for couples or families wanting to have a quick access to the subway and students or young professionals wanting to live in a shared house or in their own small flat.
Ñuñoa
Located south of Providencia and east of Santiago Centro, Ñuñoa is a pleasant and safe municipality. It includes many single-family homes with garden and some areas are classified, which avoids the invasion of twenty-floor buildings like in Santiago Centro. Ñuñoa is now served by the subway and the bus network is very well developed.
In the center of the municipality is the Plaza Ñuñoa, which concentrates many restaurants, bars, or ice cream parlors. The square has gradually become a cultural place, especially since the move of the Teatro Universidad Católica here during the 70s.
Northwest of Ñuñoa is the barrio Italia (near the Santa Isabel metro station). Barrio Italia is a lively bohemian neighborhood, where you can find many restaurants, cafes, art galleries and so on. It is the perfect place for a brunch on Sundays or just for a walk in the galleries.
Ñuñoa is recommended for people who want a little more space and need (or want) to have a car.
Las Condes
Las Condes is a well-off municipality, where many expatriates live. There are both business and residential areas, as well as shopping centers and cinemas. The municipality is quite safe, physical assaults are uncommon. The main problem is burglary (car or house).
Given that Las Condes is the largest municipality in the province of Santiago, it would be irrelevant to make a general description of it. This is why we detail some neighborhoods below: El Golf / Alcántara, Escuela Militar, Manquehue / Parque Araucano.
El Golf/Alcántara
Since the 1990s, this area, known as Sanhattan (Santiago-Manhattan), has become the business district of Santiago. Apoquindo Avenue and Isidora Goyenechea Avenue are lined with office buildings, while adjacent streets consist of residential buildings.
The name "El Golf" comes from the very posh golf club located north of Presidente Riesco Avenue.
The area is very busy on weekdays during office hours, but very quiet past 8pm. On weekends, apart from a few ferias from time to time in summer and a few markets, the area is not lively.
El Golf is recommended for short-term expatriates who want to be close to their job.
Escuela Militar
Escuela Militar is an extension of El Golf district. Similarly, office buildings border Apoquindo Avenue and the adjacent streets consist of residential buildings, whose quality of construction is lower than in El Golf.
Escuela Militar is recommended for people wanting to live in a quiet neighborhood, close to the city, while being less expensive than El Golf, or for families with teenagers, who may be more independent by being close to the subway.
Manquehue / Parque Araucano
The area near Manquehue metro station and Parque Araucano consists of a mix between residential buildings and offices, more recent than in El Golf and Escuela Militar. This district is a good compromise: it is close to the Manquehue metro station, it includes a large park which is perfect for children, it has a quick access to a mall and several international colleges are nearby, such as Colegio Alemán or Colegio Internacional Sek Chile. This area is therefore recommended for families with children.
This area is more modern than El Golf, therefore, prices have gone up and renting an apartment can be more expensive than El Golf, especially in buildings with a view on the park.
Vitacura
Vitacura is one of the wealthiest municipalities in Santiago, located north of Las Condes, and very popular with well-off Chileans. Currently, the municipality is not accessible by subway, although the subway line announced for 2028 should serve Vitacura. For now, it is necessary to have a car if you want to live in Vitacura, or to work right next door. Indeed, buses that serve the municipality can take 45 minutes to reach Providencia and Santiago Centro during peak hours.
The Barrio Alonso de Córdova features lots of art galleries and small gardens, and combines luxury and culture. Vitacura is also home to the El Mañío paseo, a pedestrian walkway lined with gourmet restaurants. The Parque Bicentenario, which is perfect for a walk on weekends, is located in the north-west of the municipality.
However, it should be noted that the concentration of wealth makes Vitacura subject to burglary. This is why most homes are equipped with electric fences above the surrounding walls and are monitored by the municipality's patrol cars as well as private security companies.
Vitacura is recommended for expatriate families, especially if children are attending the French high school or Bradford School.
Lo Barnechea
Lo Barnechea is the most northerly municipality and probably the most upmarket residential municipality in Santiago. Lots of the affluent Chilean families and expatriates live in neighborhoods in the north and west of Lo Barnechea, including the La Dehesa neighborhood, where there are chic houses and luxury condominiums.
However, Lo Barnechea is also home to neighborhoods where underprivileged Chilean social classes live, like the Pueblito Cerro 18, which sharply contrasts with the rest of the area.
The municipality is very poorly served by public transport. You will need a car if you consider settling there.
Lo Barnechea is recommended for expatriate families, especially those whose children attend one of the many schools in the municipality (Santiago College, Lincoln Academy, Nido de Aguilas, Craighouse, etc.).
Huechuraba
Huechuraba is located north of Santiago, separated from Vitacura by the Cerro San Cristóbal. It includes both residential buildings and offices (ciudad empresarial). Huechuraba also includes the Mall Plaza Norte, a shopping center. You can find beautiful houses with garden, less expensive than in Vitacura or La Dehesa. However, few expatriates live there.
La Reina
La Reina is a residential community, located at the beginning of the Cordillera. Given that the municipality is far from the city center and international colleges, few expatriates live there. However, La Reina is wooded and offers beautiful views of Santiago. The Parque Aguas de Ramón, which is perfect for hiking on weekends or picnicking with your family, is also nearby.
Get help to relocate to Chile!
Banking, Health, Visas… Receive Free Daily tips to prepare your move
JOIN FREE