21/07/2017, updated 15/06/2023
Where is Santiago Centro in the metropolitan region?
Santiago Centro is where the city of Santiago started during the 16th century, at the very beginning. Therefore, it is the heart of the city from a historical point of view. In this part of Santiago, you will find most of the central administrations, as well as a lot of historical monuments and museums.
If you look at the map, Santiago Centro is indeed located at the center of Santiago. From an expat point of view, this is actually the "west" limit, as most expatriates do live in the north-east of Santiago, and barely go in the west part of Santiago (except to take a bus to travel).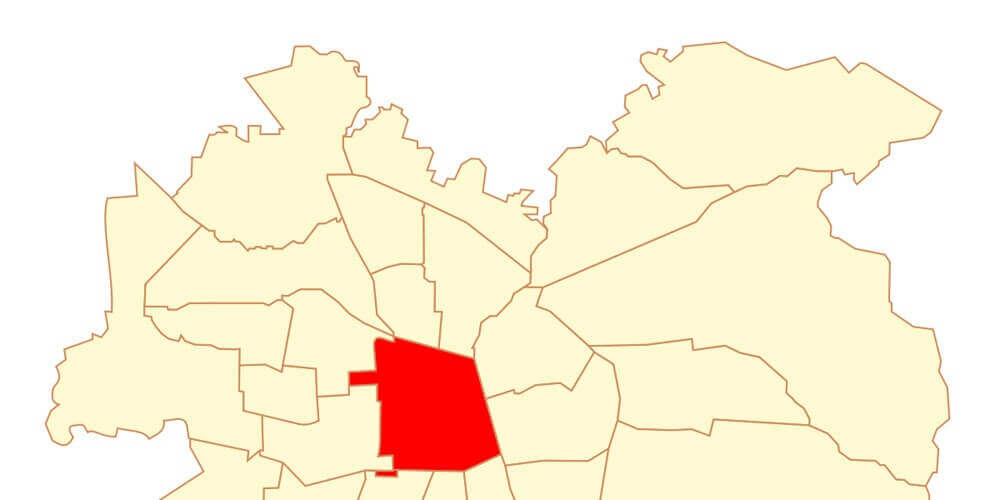 Santiago Centro is divided in two by the Alameda avenue (the nickname of avenida Libertador Bernardo O'Higgins). On the south part, the real estate boom has led to the construction of towers with 20+ floors and small flats. It is mostly a residential area, with few restaurants and shops. Don't expect a lot of activity after 9pm.
On the north of Alameda avenue, you will find the Lastarria neighborhood (barrio Lastarria). It is located on the west of the Cerro Santa Lucia (a small hill with a nice view). You can find a lot of restaurants and bars to go out in the evening.
What type of accommodation can you find in Santiago Centro
On the south of Alameda avenue: there are lots of 1 to 2-bedroom apartments, at an affordable cost. All expenses related to the building (water/staff) are split between all apartments. They rarely account for more than 10% of the rent, as there are between 150 and 250 flats per building.
On the north, in Lastarria area, there are lots of small furnished apartments (which are often dedicated to tourists' accommodation), or unfurnished apartments, which can be shared by students/young professionals (if the landlord agrees). The fact that the area is quite touristic (lots of museums/restaurants/things to visit) means that you will find a lot of temporary accommodations (especially small apartments). You are likely to pay more for the same surface. Furthermore, you should take care not to rent an apartment in a building with too many apartments dedicated to tourists.
Average cost of accommodation in Santiago Centro
1-bedroom apartment: $280,000 to $400,000
2-bedroom apartment: $360,000 to $520,000
3-bedroom apartment: $450,000 to $600,000
This cost is for unfurnished apartments on a 1-year or more rental contract. As mentioned above, you will find a lot of temporary accommodations at prices way above the above-mentioned one.
Pros:
Affordable rent
Central, allow to easily go out in the evening to have dinner or a drink
Area close to "La Vega" market, the biggest food market in Santiago, where you will find lots of fruits, vegetables, meats, fished, cheeses at a cost lower than what you will find in supermarkets
Cons:
On the south of Alameda avenue, the huge concentration of 20-floor buildings leads to a crazy amount of people in the few supermarkets located in the area. This is especially true after 6pm during weekdays or on Saturday. Wait in line for 20 to 30 minutes just to pay your food can be quite annoying…
There are still a lot of buildings under construction. Be sure to explore the area to check there is no construction in process near the flat you plan to rent. Otherwise, you sign for 6 months of noise. Especially at the end, when they start to work at night to meet the deadlines…
It can be a little unsafe late during the night, on the south part, a few blocks away from metro line 1.
We recommend Santiago Centro for
Students
Young professionals, especially if working in the city center
Examples of apartments for rent in Santiago Centro
The following selection of photos is for reference only. This is not our current portfolio of available properties. If you are looking for a property for rent in Santiago Centro, please contact us and send us all the details of what you are looking for (budget, size, number of bedrooms, furnished or not...). The more details you provide us with, the better.
Get help to relocate to Chile!
Banking, Health, Visas… Receive Free Daily tips to prepare your move
JOIN FREE