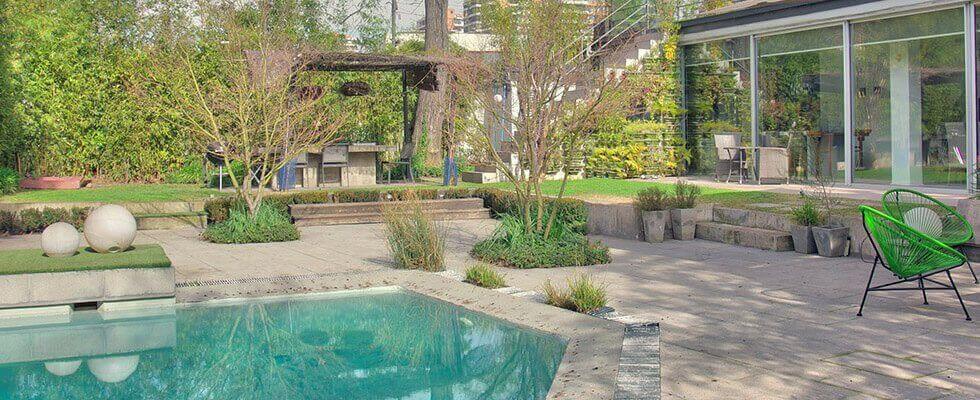 Houses for rent in Santiago
13/01/2023, updated 15/06/2023
Overview of best neighbourhoods for houses in Santiago
In this section, we give you an overview of the different neighbourhoods. For more details, you can read our pages dedicated to each commune.
Rent a house in Vitacura
Vitacura is one of the most expensive communes of Santiago, at least regarding houses. For apartments, the El Golf area of Las Condes is still the most expensive. This is due to the fact that almost all the private colleges are located in this area. Furthermore the quality of the infrastructures is overall better than in the other communes. The more expensive are in Vitacura is located between the polo club and the French sport club. It is called "Jardin del Este". In this area, parcels are around 800 sqm. This is an area that attracts a lot of French expats, due to the fact that the French alliance (the only French college that follows the French education program) is located in Vitacura.
In Vitacura, you can find houses between 1.5 and 3 millions of Chilean pesos (2200-4500 USD) per month. In the north of Rio Mapocho, two areas called Santa Maria de Manquehue and Lo Curro, located at the beginning of the Manquehue mountain, offer different living conditions, and can be of interest for some families.
Rent a house in Las Condes
If you don't need to be close to metro lines and main streets, you can find lots of houses in Las Condes. As it is large and quite heterogeneous (both regarding neighbourhoods and quality of construction), we can not really summarize the rental offer in this area. What we can say : On average, the quality of construction will be slightly lower than in Vitacura or Colina. Most of our clients looking for an house end up living in Vitacura, Colina or La Dehesa. Las Condes is more interesting for couple of families looking for an apartment. Las Condes offers lots of them, often in private condo with swimming-pool and services. Nevertheless, if you decide to rent an house here, you need to know that there are more thefts on the south part of Las Condes. This is due to the fact that municipal police can not follow thieves outside Las Condes. As houses in the south of Las Condes are close to La Reina, it is less risky for thieves. They can escape quickly.
Rent a house in Lo Barnechea / La Dehesa
If you need some more space, a larger garden, La Dehesa can be an option. It is a posh neighbourhood, which is located in the commune of Lo Barnechea. This commune also includes the main top private schools and international colleges, which attracts a broad expat community. The best being a house with a view on the golf of La Dehesa.
Houses for rent in Colina (Chamisero/Chicureo)
The commune of Colina currently concentrates most of the residential developments of premium houses. You can find houses that are brand new, or at least more recent than in the communes that we have just mentioned. This area did not exist 10 years ago, and has grown heavily after the construction of the motorway and installation of most international schools and colleges. Indeed, most, of them have open a second location in this area. Houses are mostly located in condominiums, which are private residential development, often protected by fences. You can find 2 types of condominiums:
The condominiums where all houses are identical. The property developer has sold turnkey homes. This is notably the case in Chamisero, in the condominiums close to the French Alliance.
The condominiums where each houses is different. In this case, the property developper bought the land. Then he made the infrastructures (fences, internal roads, water and electricity) supply. Finally, he sold each parcel to landlords or houses builders.
Depending of the area, the size of each parcel can vary a lot:
In the Chamisero neighbourhood, you can find a lot of small houses between 150 and 200 sqm (1,600-2,000 sq feet), with a small garden for a total of 500-700 sqm (5500 - 8000 sq ft).
The Piedra Rojas area attracts lots of upper-class families. Parcels are bigger, around 1000 sqm, and houses nicer.
The north-west area of Chicureo is different. The living style here is more "country style". Houses are more traditional, and parcels way bigger, between 5000 à 6000 sqm.
For golf players, you can also find houses close to the golf of Chicureo.
Huge 300 sqm house with swimming pool in Colina
English-style house, located in Chicureo
Rent a house in Ñuñoa
Ñuñoa is a commune that attracts more and more tenants, because the new metro line is due to open soon. Some people say Ñuñoa will replace Vitacura in a near future. Yet, it is still too early to tell. Currently, one can find some houses for rent, at a more affordable rate than in Vitacura. Yet, the quality of the infrastructures is far from being at the same level, as well as safety (see the end of the page for more info). Furthermore, lots of landlords try to convert their houses into a commercial local, to capitalize on the fact that the area is booming. This means they tend to overvalue their property. If you want to rent a house in this area, you will have to negotiate. As described in our article regarding apartments for rent in Santiago, the avenida Irarrázaval divides the commune in two parts. On the north, next to Providencia, the area is well developed around Barrio Italia and Plaza Ñuñoa. You can find a neighbourhood life, restaurants and shops. The south part is more popular, and less safe, especially at night. Furthermore, quality of properties in this area is not really at expat standards.
Providencia: Is there any house for rent there?
Providencia attracts lots of young people: students, young professionals, couples with or without children. This has led the municipality of Providencia to authorize construction of buildings, notably next to the new metro line 3. This contributed to the destruction of a lot of houses. You can still find some, but since 2015, the municipality has authorized the conversion of residential houses into commercial premises. Therefore, most remaining houses are either occupied by their owner, or rent to businesses.
And what about Santiago Centro?
A few areas of Santiago Centro are classified as "historical heritage", and therefore remain intact, with a lot of typical houses. For example, on the north of metro Cumming. Yet, they don't really fit the quality standards than an expat would expect, with limited insulation. Furthermore, most of them are town houses, with no garden, and a facade on the street. Due to the safety problems in these areas, all windows need to have a metallic grid to prevent intrusions. This does not make them very pleasant to live in. We therefore do not recommend houses in this area to our expat clients.
Houses for rent: furnished or unfurnished?
Furnished apartment/house rental is subject to 19% VAT according to Chilean tax law. This is not applicable to unfurnished property and leads to a significant price difference. Most of the time, the price difference between furnished and unfurnished properties is 25 to 50%, with 30% being the average. For more information, you can have a look at our detailed analysis in the article apartments for rent in Santiago de Chile.
Rent a house in Santiago: what about security?
Due to social inequalities, the concentration of wealth attract thieves. Notably in the affluent neighbourhood such as Vitacura, Las Condes and Lo Barnechea.
If you rent in one of these areas, you need to check that your houses has all the safety systems in place to protect you and your belongings. All theses communes have a security service that patrols 24/7 in the city to deter theft.
Most of residents also subscribe to a contract with a private agency that check houses on a more regular basis. You can ask to your landlord if the house already has a contract with an agency. If not, have a look at the signs on the other houses of your street. You will be able to know which agency is the most active in your street.
Generally, this will be the most competitive one for you, as it already conducts patrols in your street. In the condominiums of Chamisero and Chicureo, the security is usually managed at the condominium level. The condominium fees will include the related costs.
For any question or specific search, do not hesitate to contact us, even a few weeks/months prior to your move. Actually, the earliest we know what type of property you like, the better. We will be able to offer you a better selection of properties when you arrive.
Get help to relocate to Chile!
Banking, Health, Visas… Receive Free Daily tips to prepare your move
JOIN FREE