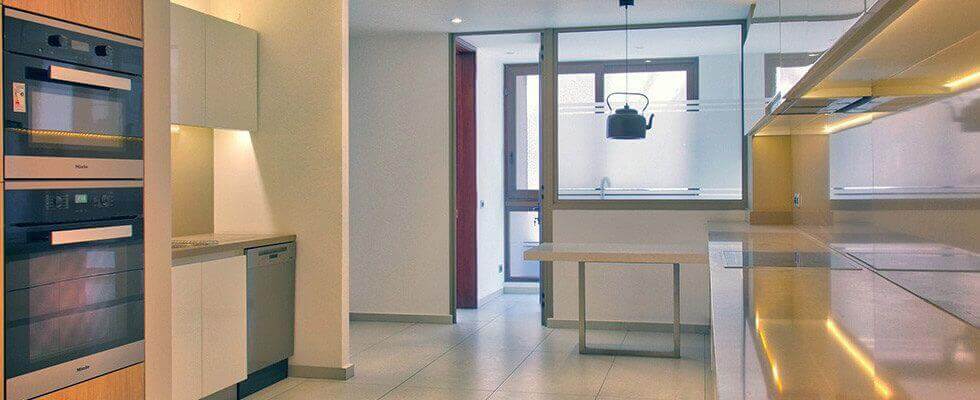 Apartments for rent in Santiago
13/01/2023, updated 15/06/2023
Overview of neighbourhoods
One of the main criteria to take into consideration is your budget. If you already have a neighbourhood in mind, you can have a look at our dedicated pages for each area, to have an idea of the price range. Let's now have a look at the type of apartments you can find in each part of Santiago. We have limited our analysis to the neighbourhoods where most of the foreigners live. Each neighbourhood attracts a different population. Below is a summary.
Rent a flat in Santiago Centro
From all areas where foreigners live, Santiago Centro is the cheapest one. You can find a lot of apartments, from studio to 3-bedroom apartment usually. Most of the modern one are located on the south of the Alameda avenue. This is an area that concentrates the vast majority of flats for rent, in tall buildings (20-25 floors).
The first buildings have been built 15 years ago, just on the south of metro line 1. Some of them start to get old, especially when the maintenance has not been properly conducted. A common problem is roof-top swimming-pool no longer usable. Being close to the metro is not a criteria for you? Look at apartments located in buildings 4-5 block on the south, or even further away. The neighbourhood will not be as safe, but you can get a bigger apartment for the same price, often in a more modern building.
Furthermore, the services available in the building are likely to be better. To attract buyers, properties developers indeed had to increase the quality of services, to compensate for the building not being near the metro. If you are on a budget, this is an area you should have a look at. On the north, the historic part of Santiago Centro also offers accommodation. They usually are older, or refurbished but used for short-term rental in touristic areas.
Apartment for rent in Providencia
This is one of the communes that young people like the most, especially those willing to avoid buying a car. Here one can find students, young professionals, couples with or without children. Residential buildings are usually limited to 8-10 floors, which means less crowded streets on the morning/evening. The area located close to metro line 1 is quite old, with buildings constructed between the 60s and the 80s. On the south, you can find more recent buildings, which have been constructed (or are being constructed now) next to the new metro line 3.
Young couples and families like the area around plaza Las Lilas, which is a small parc, as it is quiet and still very close to the metro Cristobal Colon. The biggest parc of Providencia is the parc Inés De Suárez, located 20 minutes on the south of metro Manuel Montt. If you like parcs, and don't need to be right next to the metro, this is definitely an option to consider. Due to the fact that Providencia is quite appealing for both Chileans and foreigners, rental prices are slightly over-valued compared to the real value of properties, and compared to other areas with better real estate quality. This is especially true on small units. All small departments are usually rented in a few days, except if they are (really) overvalued. You need to be reactive when a new listing is published.
Loft apartment for rent in Providencia, just near park Inés de Suárez
Rent an apartment in Ñuñoa
Ñuñoa is one of the communes that attracts the most interest currently. This is due to the new metro under construction, and the development of the area around the avenida Italia. This avenue has been transformed into a cultural and artistic area that is great to go out on weekends. Here one can find a lot of small art galeries and restaurants.
Very animated during the week-end, much more quiet during the week. Ñuñoa can be divided in two main parts.
The north half, located on the north of avenida Irarrázaval, next to Providencia. Here, you can find lots of houses. For apartments, plaza Ñuñoa (where is located the city hall) is an interesting neighbourhood. In this area, you can find several shops and restaurants. Construction of several buildings is in progress near avenida Italia, just on the south of the zone classified as "historical heritage".

In the south part, also a lot of houses, but generally with a lower quality of construction. Plus several buildings, tall like in Santiago Centro. Average rental cost will be lower, so it can be an option if you want a bigger apartment than what you would have in Providencia.
Rent an apartment in Vitacura
You will not find lots of apartments in Vitacura, at least in comparison with the other communes of Santiago. In the past, the commune contained almost exclusively houses. In the recent years, some areas have been converted, with property developers building premium apartments.
The buildings usually have a maximum height, due to municipal regulation. In comparison with Las Condes, you will find less buildings with a swimming-pool. Especially when looking at the recently built developments. Indeed, municipal regulation limits the new buildings to 7-8 floors. Therefore, a property developer cannot always split the maintenance fees of a swimming pool between enough apartments to bring them down to an acceptable level.
If you don't mind an older building, you can find interesting apartments in the north part of Vitacura. You will have a nice view on the parc Bicentenario.
Gorgeous apartment for rent in the heart of Vitacura. Ideal for a family
Apartments in Las Condes
Las Condes is the biggest commune of Santiago, and you can find a lot of apartments for rent. It is difficult to summarise the rental offer in a few lines, as the commune contains very diverse areas. We have several pages dedicated to the one that attract the most foreign expats:
Escuela Militar. This is the commune of Santiago where you can find the biggest parks. The area located between metro line 1 and parks Araucano / Juan Pablo II, two of the biggest parks in Santiago, is ideal for a family with children.
Typical in condominiums of Las Condes, Santiago: huge private park with swimming pool, ideal to let children play safely
To rent an apartment in Colina (Chicureo / Chamisero)
We have to mention it, because someone already asked us the question. Chicureo / Chamisero are not areas where you can find lots of apartments. A very limited offer of apartments is available for rent in this part of Santiago. Colina mostly offers private condominiums (closed private residential developments composed of houses). You can have a look at our article regarding houses for rent in Santiago de Chile for more information. A few recent developments offer premium lofts. Yet they remain very limited and are usually not available for rental. Anyway, the interest of this commune is to live in a house with a garden. If you want an apartment, it is better to go for Las Condes or Vitacura.
Apartment for rent in Santiago de Chile: furnished or unfurnished?
Furnished apartment/house rental is subject to 19% VAT, according to Chilean tax law. This is not applicable to unfurnished property, which leads to a significant price difference. In practice, the price difference between furnished and unfurnished can be from 25% to 50%, with an average around 30%. The smallest the property, and the closest it is from a metro station, the highest the difference will be.
You may wonder: is it interesting to buy furniture?
To give you an idea, we have done a simulation for a 120 square meters apartment (1,300 square feet):
if you buy affordable or second-hand furniture. It takes between 8 and 10 months to pay them back with the rental cost difference. For example, you buy furniture for $2,000,000, and you reduce your rental cost by $200,000 to $250,000.
For new furniture. It can take around 12 to 18 months based on their quality.
This estimation remains valid, even if the property is bigger / smaller. The price of furniture will be different, but so will be the rental price difference.
To rent the apartment on one side, and the furniture on the other side
An other option is to rent an empty apartment. And to rent furniture with a company that is specialised in furniture rental. With most of them, you can rent for a duration between 1 and 24 months. By doing so, you don't pay VAT on your apartment rental, only on the furniture. Furniture rental price will vary based on quantity and rental duration. For a 2-bedroom apartment, you can expect to pay between $300,000 and $350,000 per month. For all your furniture, including towels, table service, kitchen appliances… Here is a short list of what you get for this price:
 main bedroom (bed, bedside tables, bed linen, lamps, closet)
 child bedroom (same)
 living and dining room (2 sofas, lamps, table, chairs)
 kitchen (all table service for 6 persons, oven, microwave, blender…
 laundry room (washing machine, laundry dryer)
It can be more expensive, but it gives you more flexibility. Do not hesitate to contact us, should you need recommendations of companies providing a good value for money.
Apartment in Santiago de Chile: how to search? Is it easy to rent for a foreigner?
For more information on the search process, you should read our article Find an apartment in Santiago de Chile, which details all the process and how easy (or hard) it is to rent in Santiago. For any question or specific search, do not hesitate to contact us, even a few weeks/months prior to your move. Actually, the earliest we know what type of property you like, the better. We will be able to offer you a better selection of properties when you arrive.
Get help to relocate to Chile!
Banking, Health, Visas… Receive Free Daily tips to prepare your move
JOIN FREE